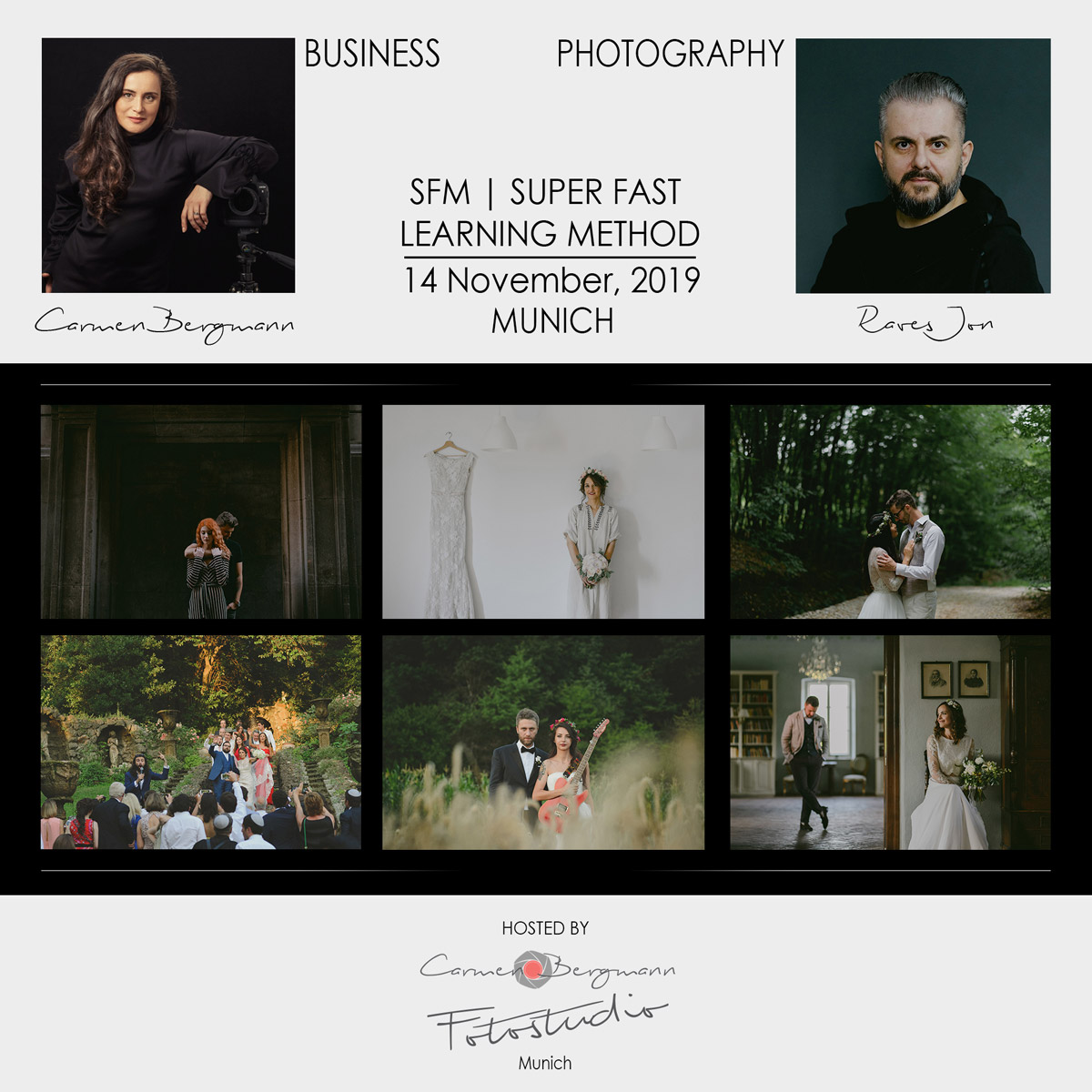 WEDDING PHOTOGRAPHY WORKSHOP
Rares Ion & Carmen Bergmann
Authentic Inspiration
Real Couple Live Session
Workflow
Editing & Proofing & Delivery
Pricing | Marketing
Q & A Session
PRICE:
- 650 EUR
- 380 EUR for the members of
Carmen Bergmann Education Club
ABOUT RARES

They say a picture speaks louder than words. His speak volumes, recounting the emotional journey of the wedding ceremony as the celebration of love. Rares captures images the couples are unaware of - the actions, expressions, tears, jokes - and turns them into digital poetry. His soulful journey begins in the heart of Transylvania and has taken him all throughout Romania and Europe, as a craftsman of masterful memories and portrayal of glee. Rares's work is acclaimed by international awards and featured in international magazines such as "Zankyou" - UK, "Norwegian Wedding Magazine", "Lápis De Noiva" - Portugal, "Boho-Weddings" - Great Britain, "Donne-moi ta main" - France and many. more.Yet, he is a discreet person with simple hobbies from which he draws life touching inspiration that he is always ready to share.
ABOUT CARMEN
After a career of nearly 20 years in communication, marketing and business, Carmen has devoted herself to photography. In just a few years her studio in Munich has become successful. The experience of building her own business in photography inspired Carmen to support other photographers with their first steps in business. She enjoys being able to use her knowledge to assist them during initial development. She is skilled in making the business topics understandable and her workshops inspire and motivate photographers.